It's finally Fall, and here in Colorado we're at the peak viewing period to see our trees and foliage change colors.
Watching and appreciating the changing season is a tradition for me and my family. It's something I grew up with and never get tired of seeing.
Another enduring symbol of the changing season: pumpkins.
They're everywhere at this time of year (are you tired of hearing the words "pumpkin spice latte" yet?). Many years ago (long before Starbucks was even an idea) we celebrated the advent of Fall by going to local pumpkin parades.
In addition to parades, some local communities awarded ribbons and prizes to residents who grew the biggest pumpkins. Newspaper reporters snapped their pictures and printed them in the evening edition of the paper. It was a proud moment for people.
Another tradition: Without fail we watched "It's the Great Pumpkin, Charlie Brown" on television with the same avid attention as if we'd never seen the show dozens of times before.
The best part about pumpkins—the thing we looked forward to the most every year—was carving them up (under adult supervision, of course).
Like clockwork on October 30, my sisters and I would lay newspapers all over the top of the kitchen breakfast table, and carefully dig out the seeds and pumpkin meat; then we carved faces into our pumpkins.
Then we'd proudly display them on our front porch, lit with candles, and looking as scary as possible.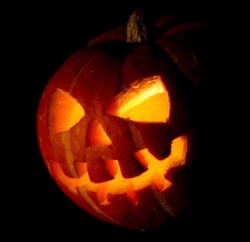 Today I live in a neighborhood where there are no young children to trick-or-treat on Halloween night (they've all grown up and moved away to neighborhoods of their own). So I really miss those traditions we had as kids that marked the change of season.
What about you? Do you have any Fall traditions you grew up with and still carry on with your family? I'd love to hear about them!